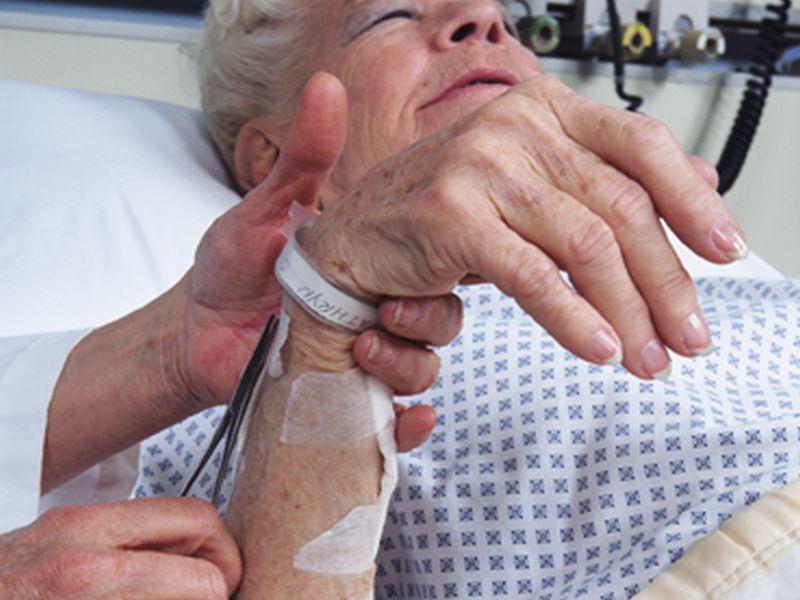 MONDAY, Oct. 10, 2016 (HealthDay News) -- When a hospital patient is taking antibiotics, the next person to use the same bed may face an elevated risk of infection with the dangerous germ Clostridium difficile, a new study suggests.
C. difficile, a bacterium that causes inflammation of the colon and causes life-threatening diarrhea, is found in U.S. hospitals. Scientists have known that antibiotic use can contribute to the germ's spread, but this new report says it's not just the patient taking the medication who's at risk.
Because the germ spores can persist, patients later assigned to the same hospital bed may have increased odds of getting C. difficile, researchers found.
"This study provides evidence that there is a herd effect with antibiotics," said lead researcher Dr. Daniel Freedberg, a gastroenterologist at Columbia University Medical Center in New York City. "In other words, antibiotics have the potential to affect the health of people who don't themselves receive antibiotics."
A doctor who wasn't involved in the study said the findings suggest a need to improve sterilization procedures in hospitals.
"This underscores the idea that hospitals are not being sanitized enough or they can't be sanitized enough," said Dr. Marc Siegel, a professor of medicine at NYU Langone Medical Center in New York City. "There is an increased need for increased sterilization procedures between patients."
According to the U.S. Centers for Disease Control and Prevention, C. difficile causes nearly half a million infections a year in the United States and 29,000 deaths. Older adults are most at risk.
In this study, researchers found that if the previous patient in the hospital bed was given antibiotics (not for C. difficile), the odds of C. difficile infection in the next patient were nearly 1 percent, compared with less than half of 1 percent if no antibiotics were given.
"Antibiotics encourage the spread of C. difficile from patients who asymptomatically carry C. difficile to patients who are C. difficile-free, even if the C. difficile-free patients do not receive any antibiotics," Freedberg said.
In patients infected by C. difficile, antibiotics may cause the germ to proliferate and add to the number of its spores shed nearby. C. difficile spores can thrive in the environment for months, the researchers noted.
In addition, antibiotics may affect good bacteria living in the gut that protect against C. difficile, Freedberg said.
The new report, published online Oct. 10 in the journal JAMA Internal Medicine, emphasized the need to use antibiotics judiciously.
To evaluate the risk of getting C. difficile from a hospital bed in which the prior patient had received antibiotics, Freedberg's team studied more than 100,600 patient pairs. All were in one of four New York-area hospitals from 2010 to 2015. New patients had to have spent 48 hours in a bed in which the last patient spent at least a day and had left the bed less than a week before the next occupant.
The suspected connection was borne out in 576 pairs. In those cases, the later patient developed C. difficile within two to 14 days after occupying the bed, the researchers found.
Average time to infection was around six days. And these newly infected patients were more likely to have the usual C. difficile risk factors -- older age, increased levels of the waste protein creatinine, decreased levels of the protein albumin, and past use of antibiotics.
The risk of C. difficile was 0.72 percent when the prior occupant of the hospital bed received antibiotics, compared with 0.43 percent when the prior occupant of the bed did not receive antibiotics, the researchers found.
The association was small, and the study doesn't establish a direct cause-and-effect relationship. But apart from antibiotics, no other factors related to the prior bed occupants were associated with increased risk for C. difficile in subsequent patients. That remained the case after excluding nearly 1,500 patient pairs in which the prior patient recently had C. difficile, according to the study.
"I don't find this surprising. We knew that antibiotic use increases the risk of C. difficile," said Siegel.
It's another way that antibiotics aren't harmless, Siegel said. When you make the decision to give antibiotics, "you have to keep in mind that you may be letting loose a germ that is in itself an infectious risk to the hospital," he said.
More information
For more on C. difficile, visit the U.S. Centers for Disease Control and Prevention.
SOURCES: Daniel Freedberg, M.D., gastroenterologist, Columbia University Medical Center, New York City; Marc Siegel, M.D., professor, medicine, NYU Langone Medical Center, New York City; Oct. 10, 2016, JAMA Internal Medicine, online
Copyright © 2016 HealthDay. All rights reserved.