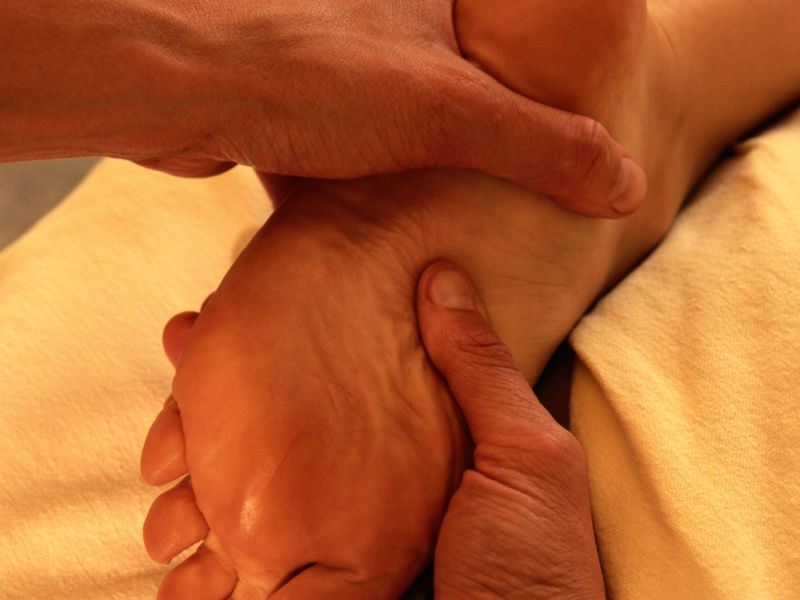 WEDNESDAY, June 15, 2016 (HealthDay News) -- Sunlight is considered the leading cause of melanoma, but daily wear-and-tear appears to promote the deadly skin cancer in at least one place where the sun rarely shines, researchers say.
Stress and damage caused by walking or running could be a risk factor for melanoma on the soles of the feet, the Japanese researchers contended.
Worse, because people don't think to check for melanoma on their soles, when the cancer is found it's often very advanced, the investigators reported.
Cases of melanoma on the soles of the feet seem to occur in places that receive the most stress when people walk or run, said senior researcher Dr. Ryuhei Okuyama. He is a professor of dermatology at the Shinshu University School of Medicine in Matsumoto, Japan.
These places (the "plantar surface") include the ball of the foot, the side of the foot's arch, and especially the heel, the researchers said.
"Our clinical observation suggests that mechanical stress -- such as plantar pressure and shear stress -- is involved in the development of melanoma on the sole," Okuyama said.
Melanoma occurs in the skin's melanocytes, which are cells that produce brown pigment called melanin, according to the American Cancer Society (ACS).
It's a relatively rare, but very serious form of cancer. Melanoma accounts for only 1 percent of all skin cancers, but it causes the most deaths from skin cancer. More than 76,000 new melanomas are expected to be diagnosed in the United States in 2016, and approximately 10,000 people will die from the cancer, the ACS says.
Melanoma on the soles of the foot is even rarer than that, Okuyama said -- about 2.2 cases for every million black people and about 2.4 cases for every million white people in the United States.
Melanoma is generally caused when ultraviolet rays -- from the sun, or from artificial sources, such as tanning beds -- damage the DNA of melanocytes, according to the cancer society.
But a review of medical data between January 1990 and December 2014 revealed 123 patients at Shinshu University Hospital who had been diagnosed with melanoma on the soles of their feet. The average age of people diagnosed with melanoma on their feet was 73.5 years, the study reported.
Charting the location of the melanomas, researchers found they most often occur on locations where pressure is regularly placed on the sole. Only a couple of cases occurred in the arch, which receives little direct pressure while walking, the study authors said.
When diagnosed, many already had advanced melanoma, the researchers noted.
Only 40 people -- about one-third of all the patients -- had cancer that was 1 millimeter or less thick. That thickness is usually classified as stage I melanoma. The rest had melanomas that were thicker and further developed, the study revealed.
Dr. Len Lichtenfeld, deputy chief medical officer for the American Cancer Society, pointed out that "once you get above that 1 millimeter level, you can be in serious trouble."
Dr. Lynn Schuchter is chief of hematology and oncology at Penn Medicine's Abramson Cancer Center in Philadelphia. She said that the finding is intriguing, but doesn't completely line up with what we already know about melanoma in other locations on the body.
"Chronic damage or pressure or chronic inflammation has not been linked to other areas of the body and melanoma, but it is linked to squamous cell skin cancer," said Schuchter, who also serves as an expert for the American Society of Clinical Oncology.
Lichtenfeld concurred. "The authors have provided us with useful and thought-provoking information, but whether stress is the cause of melanoma in these locations is unknown," he said. "It's unlikely this is the complete story about why these melanomas happened in the first place. There may well be other factors involved."
Both U.S. cancer specialists agreed with the Japanese researchers that the soles should be part of any skin check.
Okuyama said, "In our view, a foot check should be considered as a part of skin cancer exam, especially in elder persons. Lesions on the sole are hardly noticed in daily life."
People who want to check their own soles should look for the same signs of melanoma as other parts of the body, Lichtenfeld and Schuchter said.
Look for moles or spots on the skin that are asymmetric, have irregular or ragged borders, have different shades of coloration, are larger than 6 millimeters across, and are changing in size, shape or color, the ACS says.
On the soles, people also should be on the lookout for melanomas that contain no coloration, Schuchter added.
"A non-healing wound or ulcer should also raise clinical suspicion that one is dealing with a cancer," she said. "People think, 'oh it's a corn, oh it's a blister.' The concern is if some of these things really persist or are associated with bleeding, that raises the issue that something else might be going on."
The report was published June 16 in the New England Journal of Medicine.
More information
For more on melanoma, visit the American Cancer Society.
SOURCES: Ryuhei Okuyama, M.D., Ph.D., professor of dermatology, Shinshu University School of Medicine, Matsumoto, Japan; Len Lichtenfeld, M.D., deputy chief medical officer, American Cancer Society; Lynn Schuchter, M.D., chief of hematology and oncology, Penn Medicine's Abramson Cancer Center, Philadelphia; June 16, 2016, New England Journal of Medicine
Copyright © 2016 HealthDay. All rights reserved.